---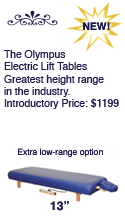 ---
EMPRESS


Versatile client positioning. The foot section lowers for a roll-up foot spa. Tilts up for inversion therapy. Perfect for facials, pedicures and massage.
---
VERONA TILT


Offer your clients the health benefits of incline positioning! Raise the head or feet to new levels.
---
GRAND VERSAILLES


Maximize your income! The only table that does, facials, manicures, pedicures, waxing, wraps and massage —with nothing more to buy!

Massage Chairs
Lightest • Easiest Set-up • Most Stable on Uneven Surfaces

The only chairs with the patented QuickTouch™ Head Support.